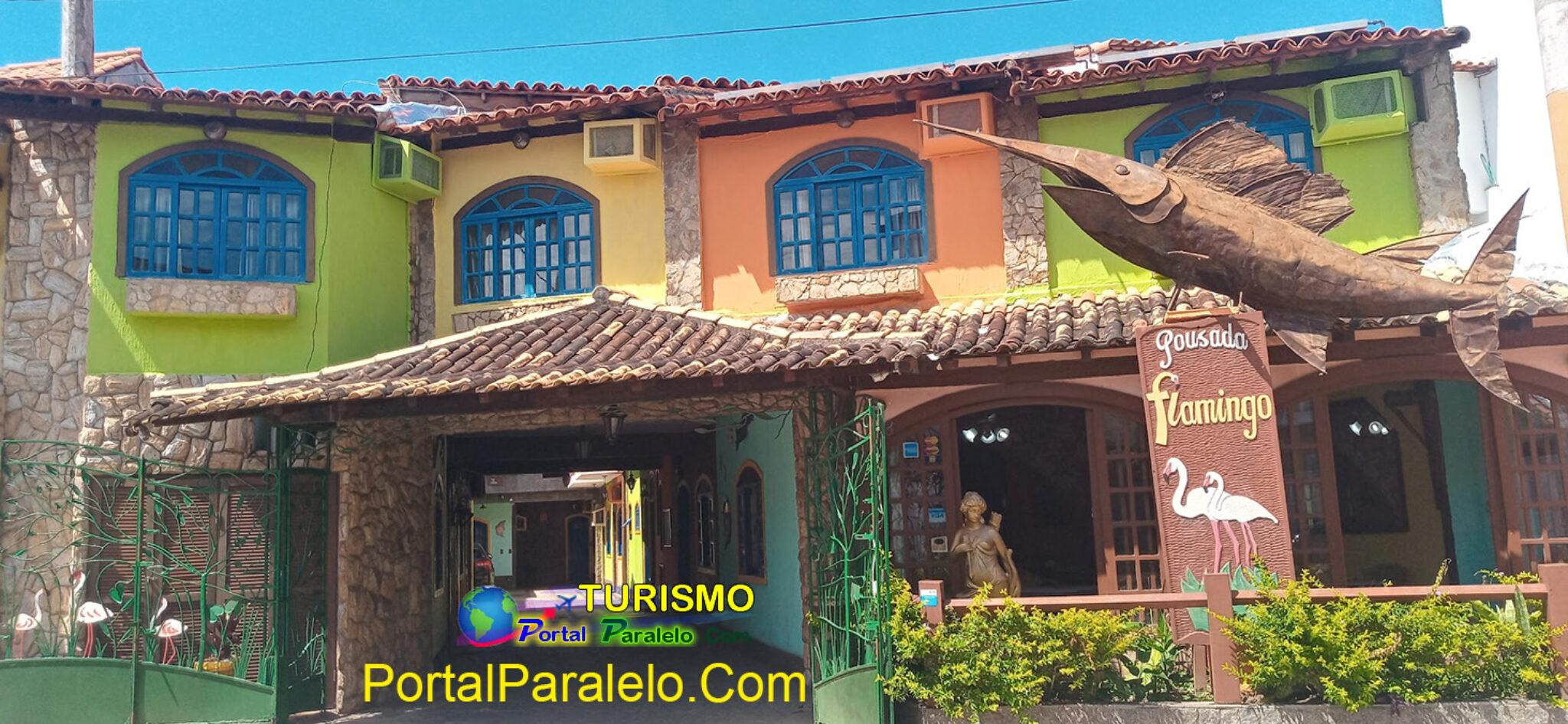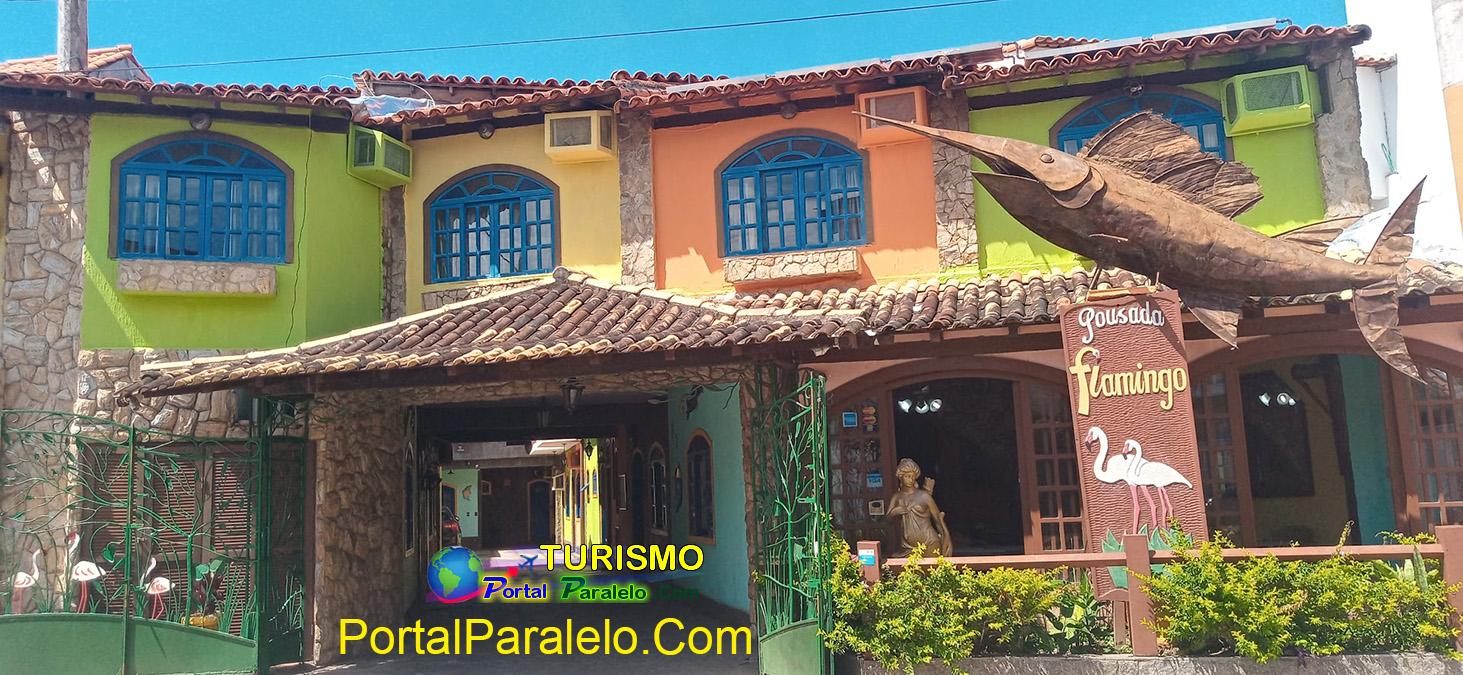 Review of our tour and accommodation at Pousada Flamingo, in Búzios, RJ: Continuing the information written in the post about our 12-day Tour and accommodation along the Costa Azul and Costa Verde do RJ, our third stop on this adventure was in Búzios, where we stayed at Pousada Flamingo.
The method of choosing the location was the same as always, we searched on several sites reading comments, reviews and photos to find a place that was quiet to rest and at the same time close to beaches and tourist attractions and during our search, we found the Pousada Flamingo.
As we were in Cabo Frio, we decided to pay an UBER to Búzios as it was a quick means of transport and the price was not that high. The direct trip from Hotel Laplage to Pousada Flamingo cost R$55.00 (fifty-five reais – Approximately 11 US dollars).
Upon arriving at the inn, we were already happier with the external look, a very colorful facade, with a cheerful atmosphere, quite the opposite of our previous accommodation.
About our stay at Pousada Flamingo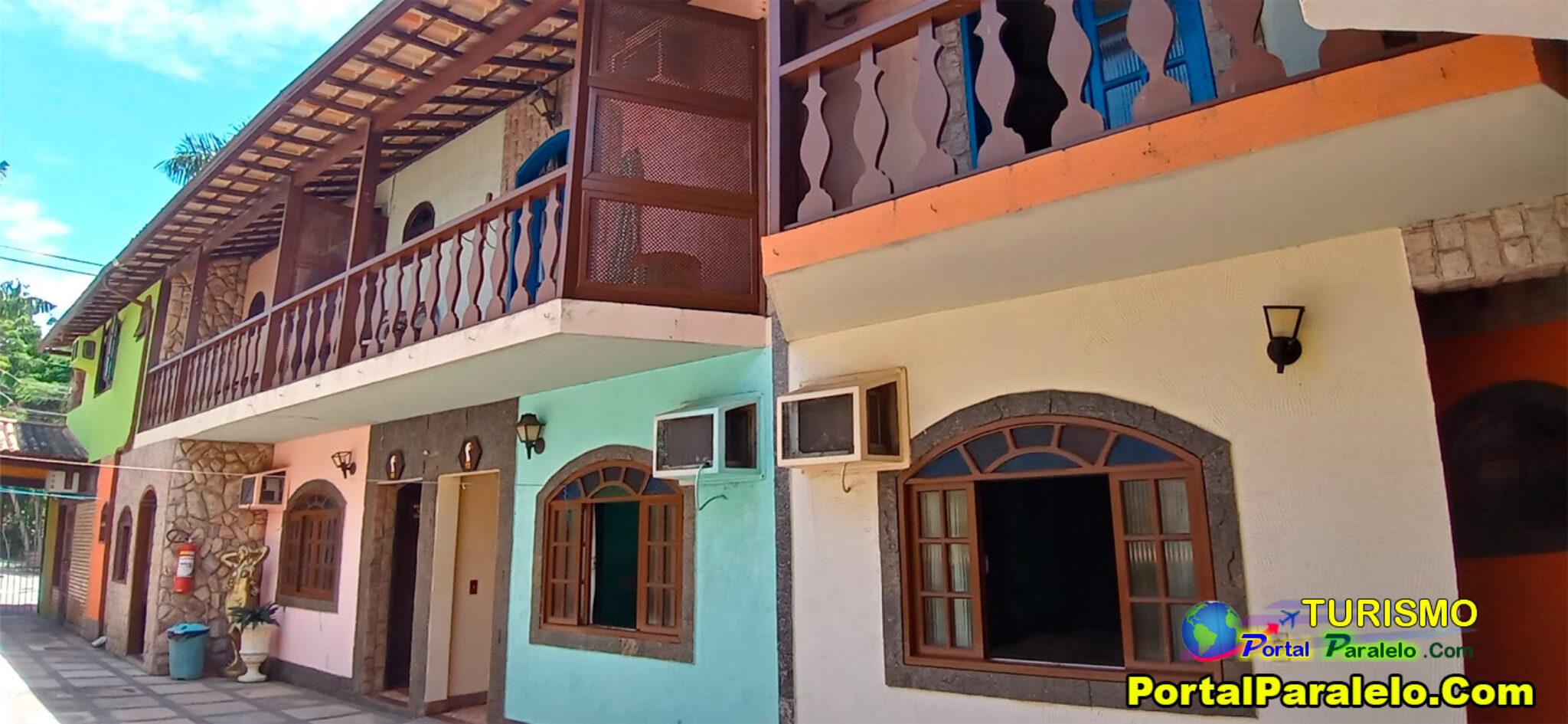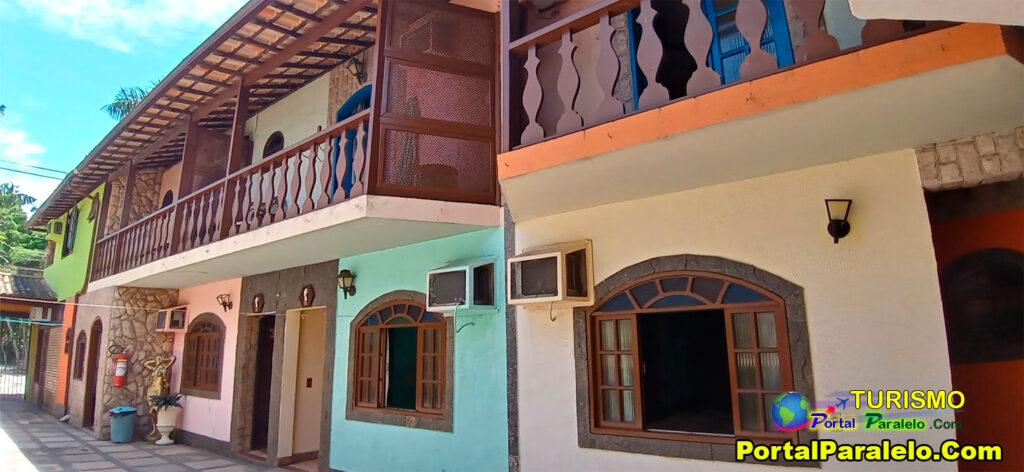 We went straight to the reception where we confirmed the reservation which was for 2 nights in 1 room for 2 adults with a double bed with arrival on Saturday, February 4, 2023 and departure
Monday, February 6, 2023 (until 12:00), with breakfast included in the amount of R$ 664.20 (six hundred and sixty-four reais and twenty cents – Approximately 132.84 US dollars).
After Check-in, we answered some questions about how to walk to the commercial center of Búzios and the famous Rua das Pedras, a place famous for its bars, restaurants and other day and night attractions.
Soon after, we were taken to our room, which was number 09 – Praia dos Amores, because at the inn, in addition to being numbered, the rooms are named after the beaches of Búzios.
The room, although simple and small, was very cozy, had a good ceiling fan and a functional air conditioner. There was also a small fridge and a television that I don't know why only got two open channels and with a very bad image.
A big disappointment was the internet connection, because although there was a modem with wifi next to the room, the devices connected, but did not have access to the network. This caused me great inconvenience, as the photos I had taken while staying at the previous Hotel ended up being lost when I tried to back them up to the cloud in order to free up more space on my cell phone for new photos that I would take in Búzios.
When asking at reception about the internet signal, one of the employees informed me that the modem was having problems and the technician would only fix it next week, while another employee simply ignored my information and insisted that everything was fine with the network and that she herself was using the signal.
Well, apart from this problem with the internet and the lack of clarification on how to solve the problem, our stay at the inn was very good. It was really close to the center of Búzios and in less than 5 minutes of walking we were already in front of bars, restaurants, banks, markets, pharmacies and etc…
Tours and activities to do in Búzios – RJ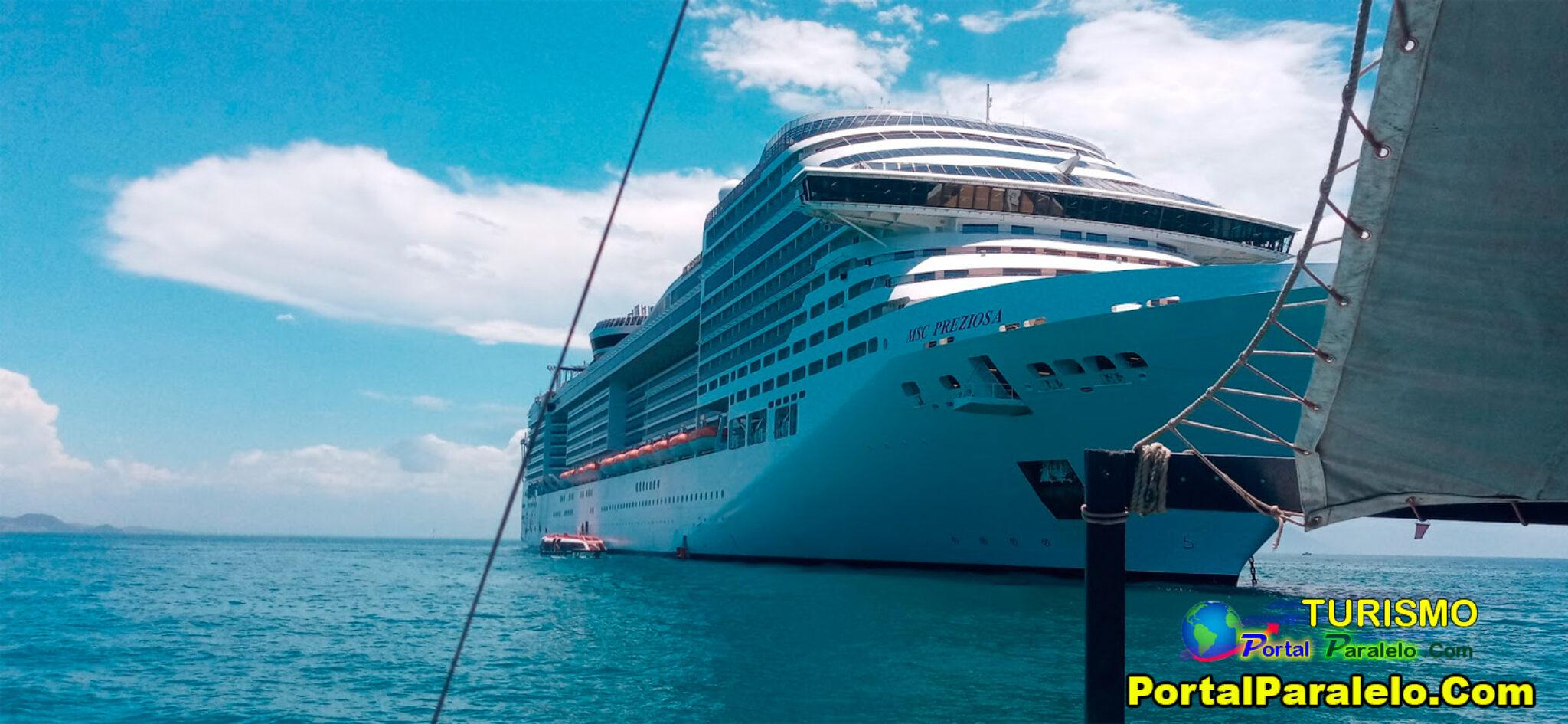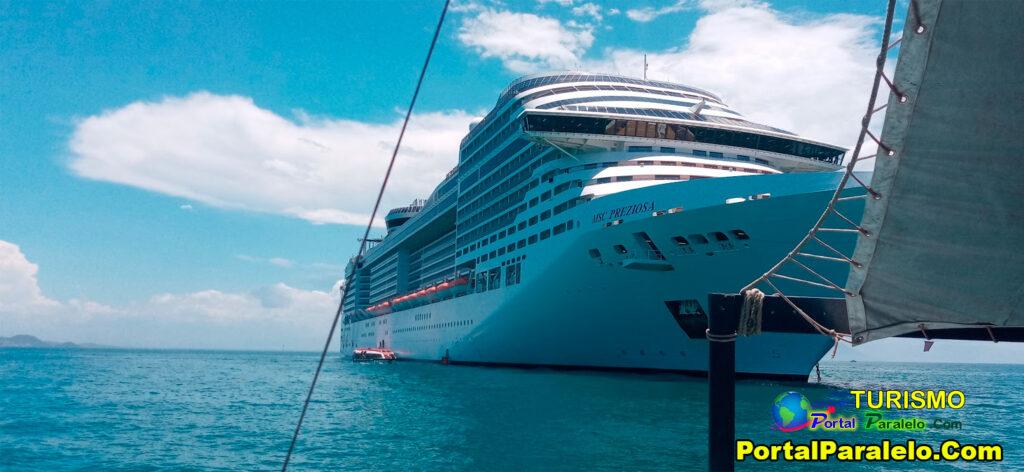 We had some very good experiences in Búzios with a Boat trip through the islands and beaches with 3 stops for diving paying R$50.00 (fifty reais per person – Approximately 10 US dollars).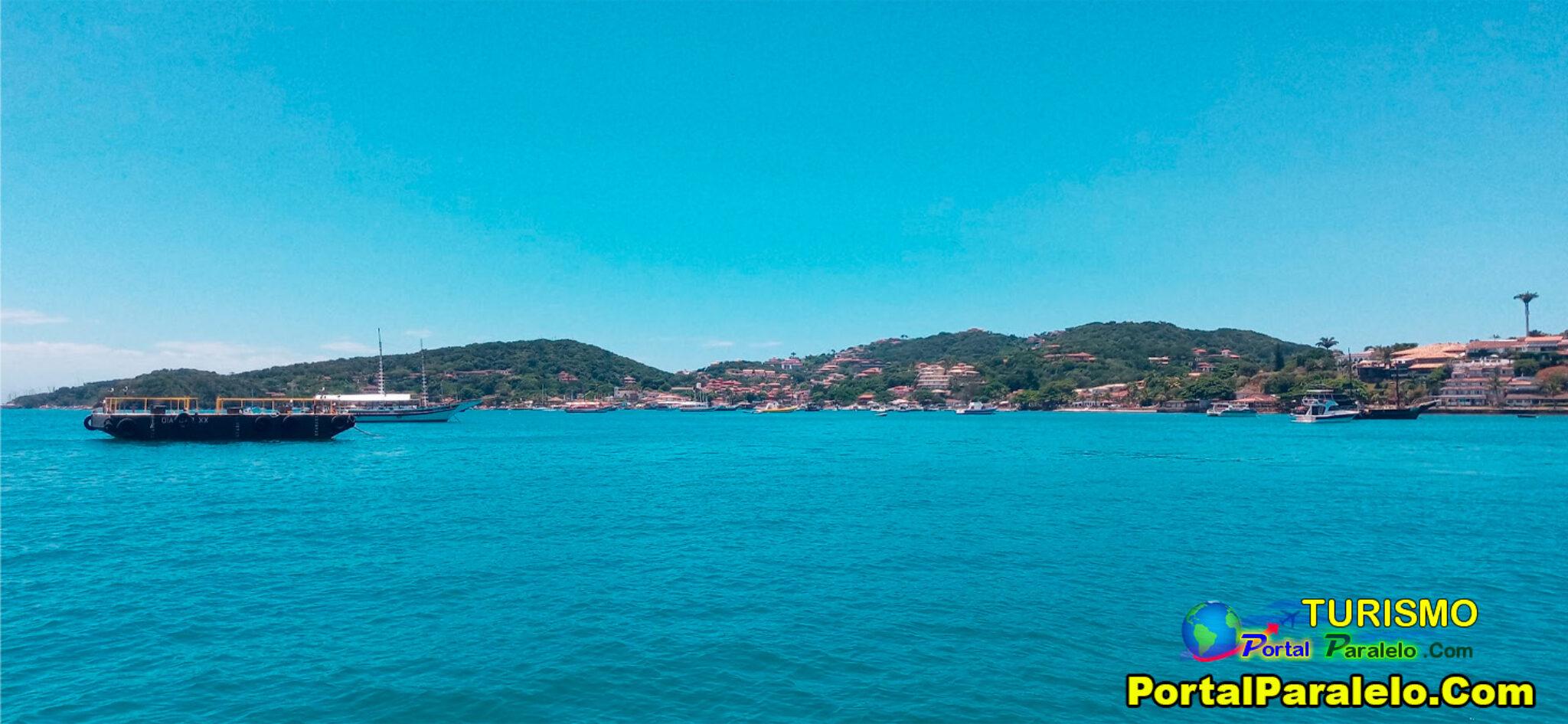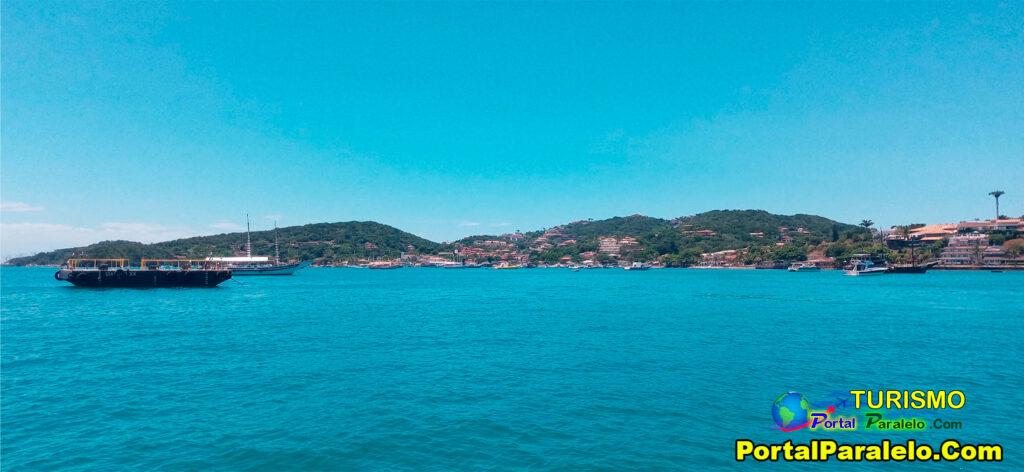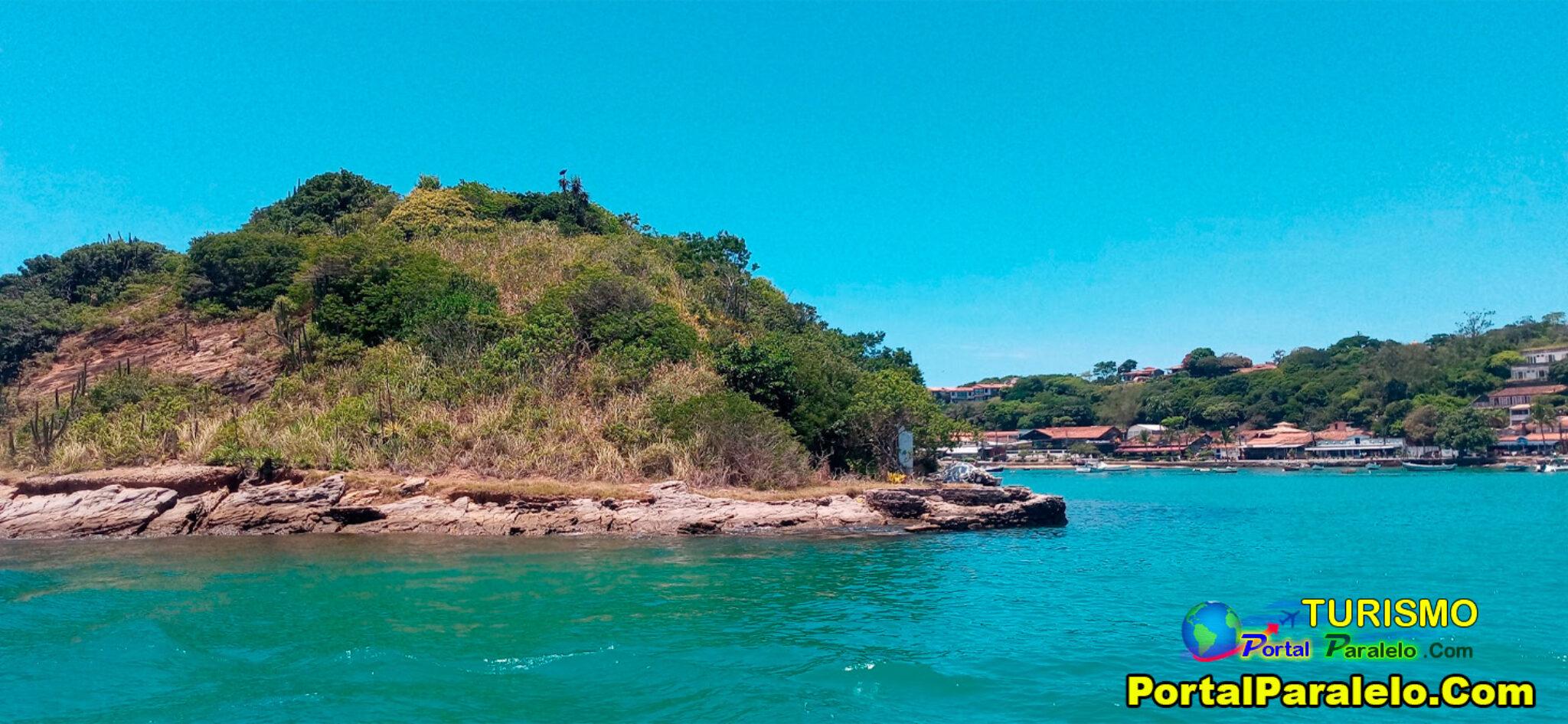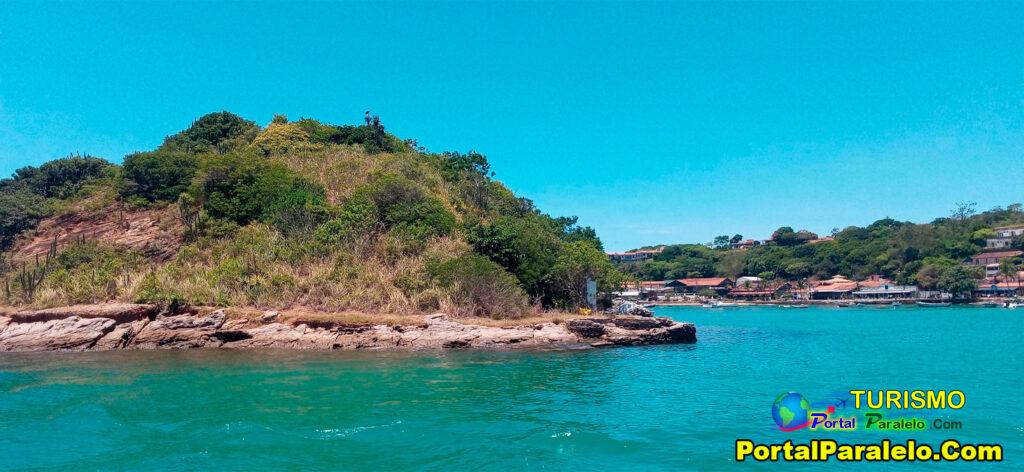 We met the first couple of geese to get married in the world, according to the owner, the wedding has a religious ceremony and everything.
We enjoyed a delicious dinner with seafood moqueca for two at La Bardot Restaurant for R$150.00 (one hundred and fifty reais – Approximately 50 US dollars).
We tried a dessert called Trudel, which is a Romanian sweet, made with freshly baked dough, with sugar and cinnamon, and served with a filling, which in our case was ice cream. This delicacy cost R$28.00 (twenty-two reais – Approximately 5.6 US dollars) at Royal Trudel.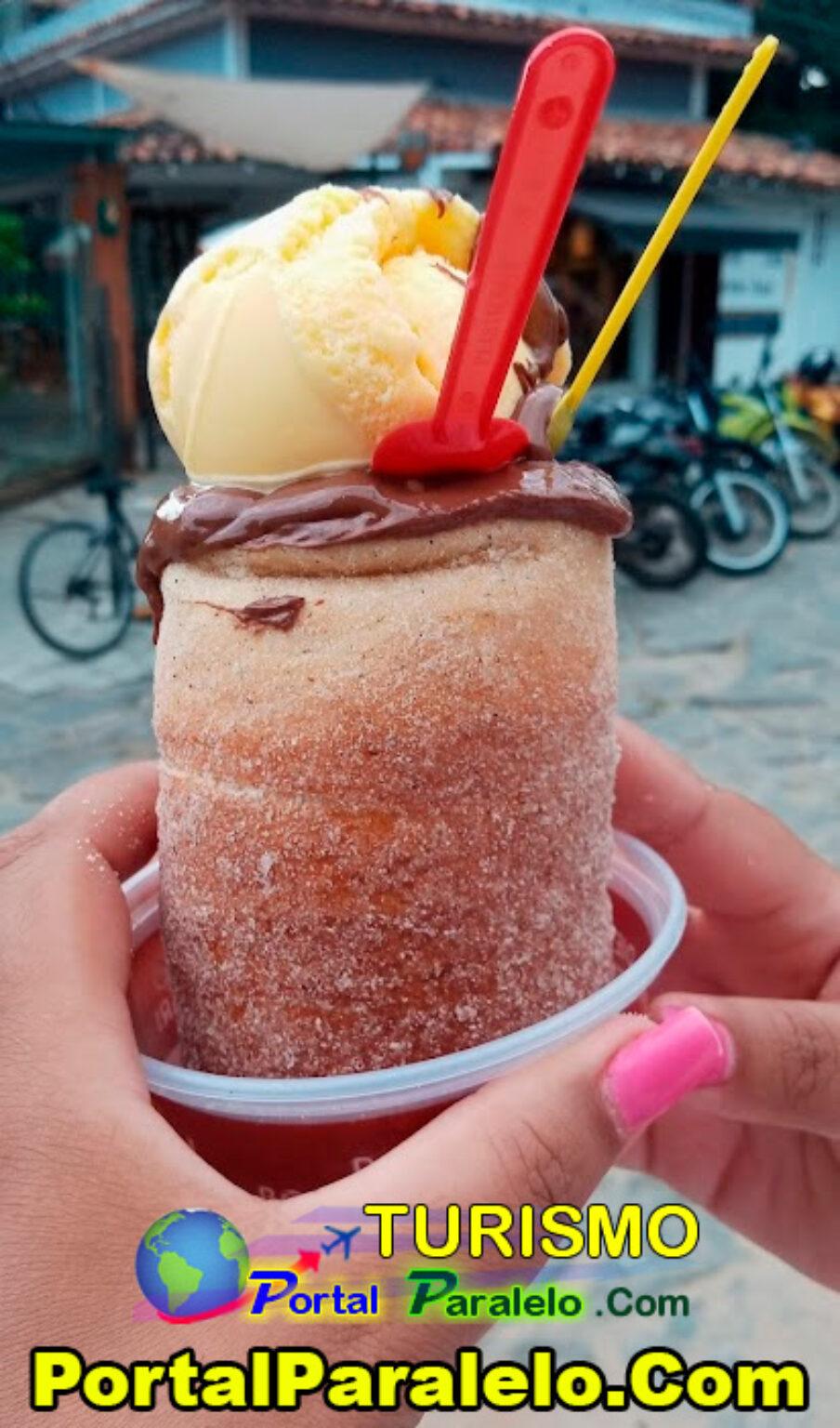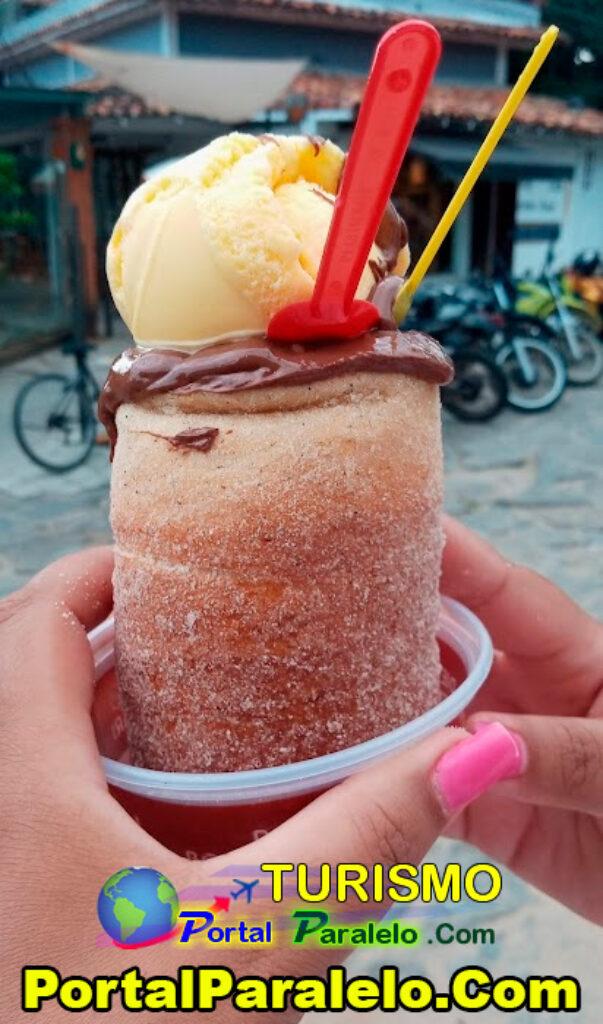 In addition, we had the gift of seeing a turtle swimming freely in the waters on the edge of the Búzios Pier. See the video below:
Tip: Although Búzios is famous for being a relatively expensive place, if you look around you can find several options for food, drinks and activities at very affordable prices.
Do you want to know Pousada Flamingo?
[content-egg module=Offer template=custom/compact post_id=28616]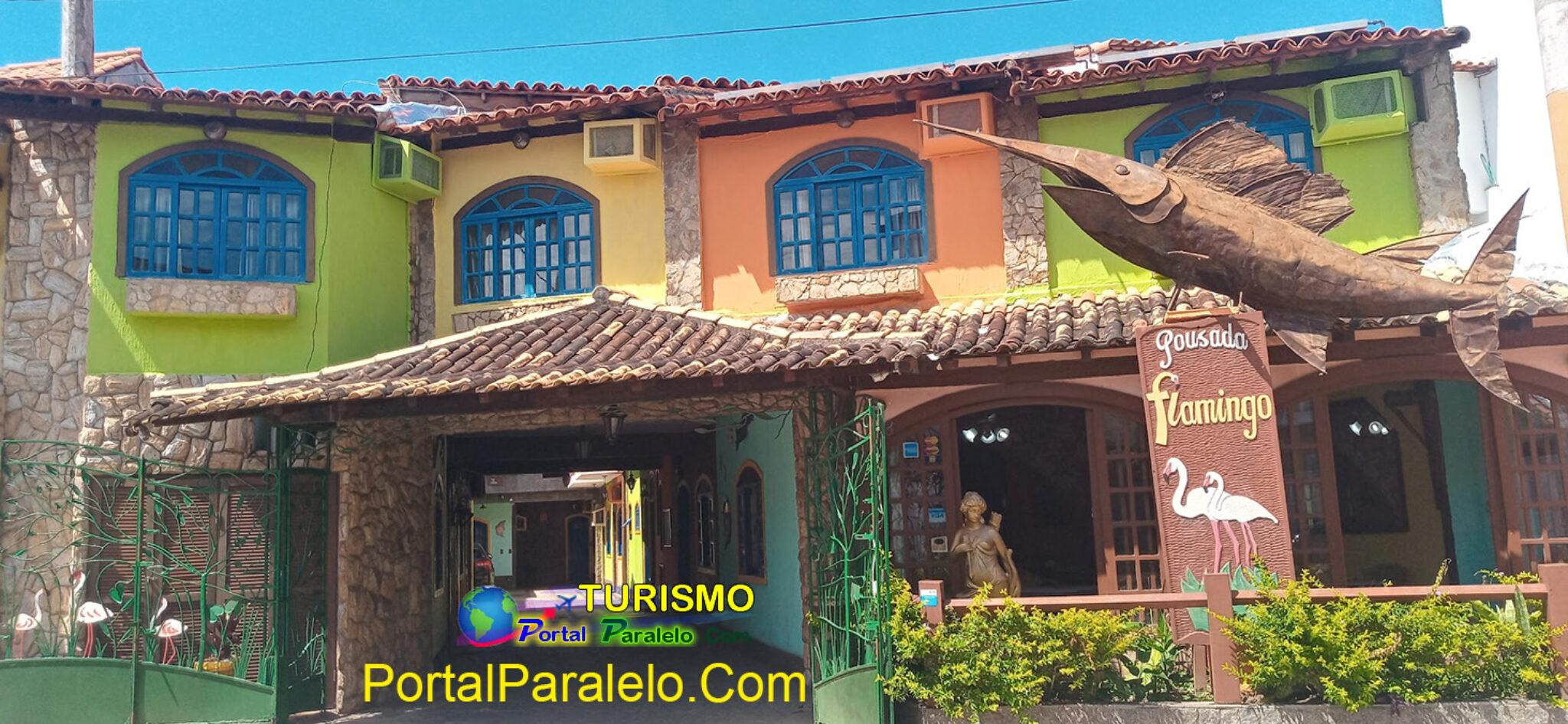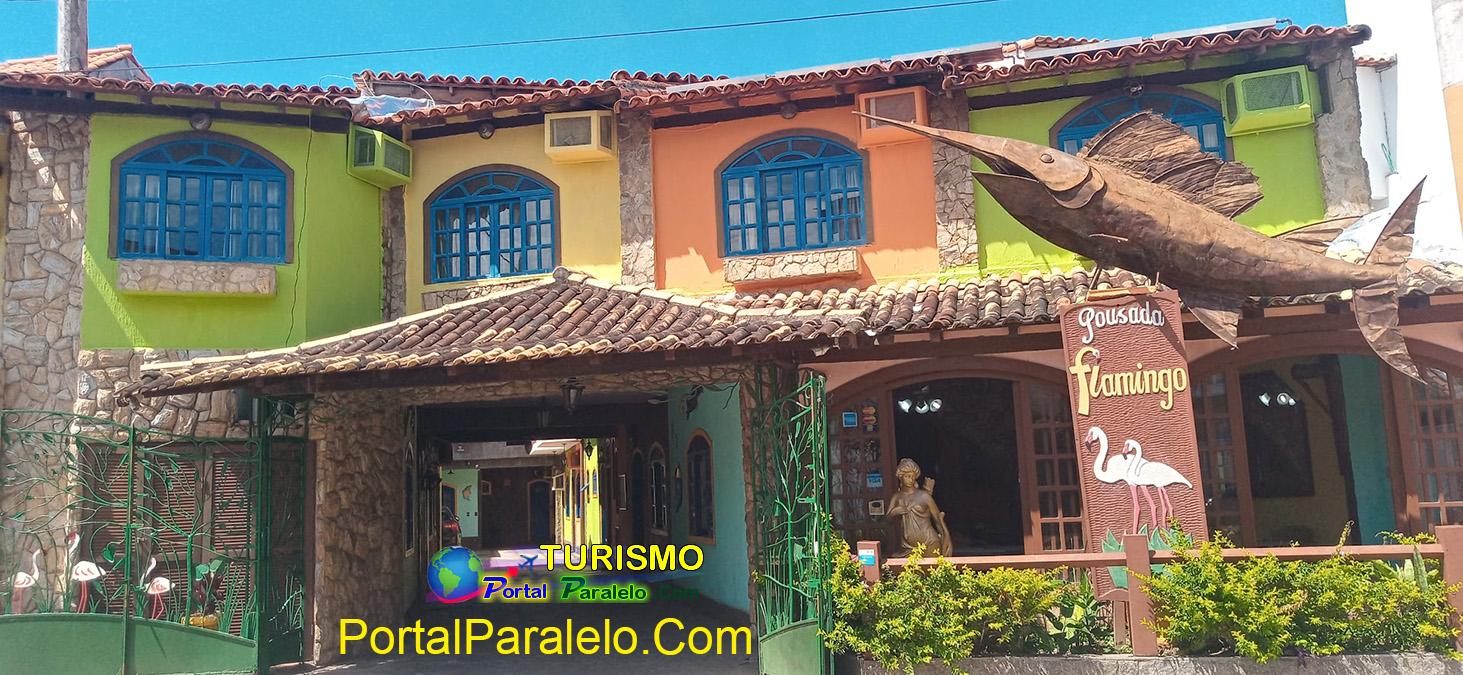 Accommodation at Pousada Flamingo – Búzios – Rio de Janeiro – Brazil
Pontos positivos:
Café da manhã
Localização
Pontos negativos:
A internet não funcionou